They're called the bird streets. They have precious little names – Blue Jay Way, Oriole Drive, Bluebird Avenue, Skylark Lane and Robin Drive. But the homes that sit on these streets are anything but modest.
The bird streets are a clutch of winding roads in the hills above West Hollywood, an enclave built decades ago by the wealthy and famous drawn to the dazzling views of the L.A. basin.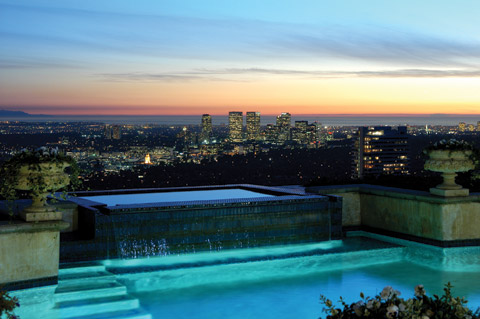 Of late, this neighborhood has launched the careers of celebrity realtors – see HGTV'S Selling L.A. or Million Dollar Listing Los Angeles on Bravo. And, they represent the latest mother lode for foreign investors.
Big money gets attention, and that's what L.A. sorely needs right now. Mayor Eric Garcetti is all smiles about the exaggerated value of these wealthy neighborhoods. You see, the world's richest people are buying up L.A.'s platinum properties as investments. They don't live there; some of them generate a little extra cash flow by renting them for five figures a month. (If they're going to just let it sit there I'd be happy to occupy one of these vacant mansions, tend the gardens and clean the pool.)
It's the new world order. It used to be L.A.'s tonier neighborhoods were synonymous with their longtime residents: the Hearsts, Jack Benny, Barbra Streisand and Aaron Spelling lived in places like Holmby Hills, Bel Air and Beverly Hills. Now, investors from distant shores of unconscionable net worth are buying these homes, sometimes tearing them down and erecting something decidedly more au courant and often more ostentatious.
Absentee owners bought more than one quarter of California's $1 million-plus homes last year (even more staggering is the fact that nearly half the homes in the Hollywood Hills were purchased by absentee owners.) They come from China, India, Hong Kong and Tunisia. They fly in, they look, they fly out. They also look in New York and London, where prices are higher. So L.A. is still a good buy at an average $1,340 per square foot compared to $2,240 in New York and $4,300 in London.
They're looking for an investment that bears little or no correlation to the rest of their portfolio. And real estate is just the hedge. It's all good, according to L.A. Mayor Eric Garcetti, because it's good for the city's reputation and for the economy.
"For too long, L.A. has not been in the global conversation," Garcetti recently told Bloomberg News. "I want those people to come here. I want those people to talk about L.A. when they go back."
While the film industry struggles to reverse the trend of "runaway production," this is good news, a positive trend. We don't care who you are so long as you're bringing green to the economy. It's a global world, after all. Frankly, I'm energized by the international nature of Los Angeles – a city that is anything but provincial.
We're seeing foreign investment not only in homes but in massive properties, scalable businesses and startups. The future of cities this size is in their ability to foster opportunity for investors of every stripe. I have no problem with this so long as the dollars or dinar keep flowing into our economy and keep L.A. relevant and vibrant.
Money talks, and L.A. doesn't care what language it's speaking.